The scent and taste of lime and mint is really refreshing on the occasion, and in this filling zucchini, green lentil & avocado dish, I've brought together the flavors of both worlds for a delicious treat.
NOTE: While this recipe is filed under "warm dishes" (also to signify the use of cooked ingredients), it is best served at room temperature.
Required equipment for this recipe:
Kitchen knife
Cutting board
Small bowl or cup
Medium or large bowl
Medium cooking pot
Vegetable peeler
Sieve (for rinsing lentils)
Utensils to mix ingredients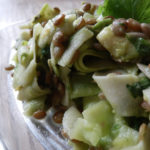 Zucchini, Green Lentil & Avocado Dish
Ingredients
2½

cups

water

3

zucchinis

peeled into slices

½

cup

green lentils

2

avocados

sliced

40

grams

sunflower seeds

1

cup

mint leaves

finely chopped

4

limes

3

tablespoons

olive oil

natural salt

to taste
Instructions
Get ingredients ready for preparation and use.

Thoroughly rinse the green lentils in a sieve under running water. Pour 1 cup water and lentils into a pot and bring to a boil. Once boiling, lower to a simmer and continue cooking until lentils are soft and tender, which should take roughly 30-40 minutes. (In the meantime, prepare other ingredients.)

In your salad bowl, add peeled and sliced zucchini, avocado, and chopped mint leaves.

In a separate bowl/cup, squeeze out the juice of your limes.

Once the lentils are done, allow them to cool for 5-10 minutes, then add them to the salad bowl. Add lime juice, olive oil, and optionally salt to taste.

Mix ingredients well together then pour sunflower seeds on top (mix them in a little bit if you want).

Your dish is ready for serving! Enjoy.
Recipe Notes
As always, try as best you can to procure and use organic ingredients. Make sure to rinse and clean your produce properly before use.
Use cold-pressed, organic, non-refined and unheated oils only.
Look for olive oil in dark bottles that contain sediment at the bottom, indicating a high quality, natural, and unrefined extra virgin olive oil that was packaged while the oil was fresh.
Special ingredient(s) used: