Fancy a quick, light, and warming treat? Then don't hesitate to have a go at this delicious carrot, celery & campari tomato soup flavored with fresh basil and a little garlic and red onion.
Blenders aren't just for making smoothies and milkshakes. A high speed blender, which this recipe calls for, can indeed be used to prepare terrific soups (among an array of other food preparations) in a matter of minutes. Here, I give you just one example of what you can make. Enjoy!
Required equipment for this recipe:
High speed blender
Kitchen knife
Cutting board
Soup bowl
Small cooking pot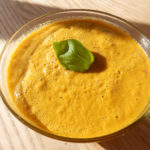 Carrot, Celery & Campari Tomato Soup
Ingredients
2

medium

carrots

cut into smaller parts

2

stalks

celery

cut into smaller parts

3-4

campari tomatoes

halved

1

slice

red onion

1-2

clove(s)

garlic

minced

1

handful

fresh basil leaves

1

tablespoon

sweet almond oil

2

cups

water

natural salt

to taste

mixed peppercorns

to taste
Instructions
Get ingredients ready for preparation and use.

Heat 2 cups of water in a small pot. Turn off the heat just before the water reaches the boiling point. You want hot water, not boiling water.

While the water heats, prepare other ingredients and add them to your blender in the following order: carrots, celery, tomatoes, onion, garlic, basil, and sweet almond oil. If you wish to use salt, add in ½ to 1 teaspoon.

Once the hot water is ready, pour in about 1½ cups into the blender. Blend contents for 30-60 seconds or until desired consistency is reached.

Voila! You have a delicious soup ready for serving.
Recipe Notes
As always, try as best you can to procure and use organic ingredients. Make sure to rinse and clean your produce properly before use.
Use cold-pressed, organic, non-refined and unheated oils only.
You may alternatively use heirloom tomatoes, plum tomatoes, or grape tomatoes.
If you want a thicker consistency, you may add an avocado (and replace the sweet almond oil) in the blender as the final ingredient before pouring in the hot water.
You may consider using dulse flakes in place of any salt.
Special ingredient(s) used: