With this beautiful romaine, brazil nut & mixed berry smoothie, I'm bringing you another nutrient-rich and quick-to-make meal that will help fuel you through your day. This smoothie is made light on sweetness, allowing you to control how sweet you want it to be.
Required equipment for this recipe:
high-speed blender
fine mesh nut milk bag
bowl (for straining nut milk)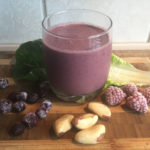 Romaine, Brazil Nut & Mixed Berry Smoothie
Ingredients
1¼

cup

water

1

small head

romaine lettuce

separated

20

brazil nuts

1

cup

frozen raspberries

20

grams

coconut chips

½

teaspoon

ceylon cinnamon

¼

teaspoon

himalayan crystal salt

natural sweetener

(of choice/optional)
Instructions
Get ingredients ready for preparation and use.

In your blender, add water and brazil nuts. Blend contents until the nuts have fully dissolved (should take about 15 seconds in a powerful, high-speed blender). Strain the milk through a fine mesh nut milk bag into a bowl.

Add the milk back into the blender with remaining ingredients plus optional choice of natural sweetener and whiz again!

Your smoothie is done and ready for serving.
Recipe Notes
As always, try as best you can to procure and use organic ingredients. Make sure to rinse and clean your produce properly before use.
If you want additional sweetness, then natural sweeteners you can use include:
Feel free to substitute with other berries (e.g. strawberries and blackberries) or pitted cherries.
Ceylon cinnamon is not mandatory, so feel free to use regular (cassia) cinnamon.