Tasty? Check. Savory? Double-check. Filling? Gosh, let's just say you get it all with this dish of red lentil pasta combined with a nice avocado, basil and garlic sauce.
This recipe is great for people just starting out and wanting to ease into a healthy way of eating, but still wanting something on the slightly "heavy" side.
Try it out and see if you like it!
Required equipment for this recipe:
Blender
Kitchen knife
Cutting board
Large bowl
Stockpot
Sieve
Utensils to mix ingredients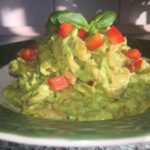 Red Lentil Pasta with Avocado, Basil & Garlic Sauce
Ingredients
250

grams

red lentil pasta

3

avocados

1

red bell pepper

chopped

1

handful

basil leaves

2-3

cloves

garlic

minced

2

tablespoons

lemon juice

1-2

tablespoon(s)

olive oil

1

teaspoon

natural salt to taste
Instructions
Get ingredients ready for preparation and use.


In a stockpot, set water to boil and cook red lentil pasta according to directions.

Chop the red bell pepper, mince the garlic and pluck a handful of basil leaves.

Add avocado, basil leaves, minced garlic, olive oil, 1 teaspoon natural salt of choice and lemon juice to blender and blend content into a thick sauce.

Once pasta is ready, empty out the water and place the pasta in a large bowl.

Add the avocado sauce and 3/4 of chopped red bell pepper to the pasta and mix together. Garnish with remaining bell pepper and additional basil leaves.

Excellent work, serve your delightful pasta!
Recipe Notes
As always, try as best you can to procure and use organic ingredients. Make sure to rinse and clean your produce properly before use.
Use cold-pressed, organic, non-refined and unheated oils only.
Look for olive oil in dark bottles that contain sediment at the bottom, indicating a high quality, natural, and unrefined extra virgin olive oil that was packaged while the oil was fresh.
Special ingredient(s) used: