Lentils are one of my favorite go-to ingredient staples—as opposed to grains, white potatoes, and wheat-products—when something warm is needed.
Red lentils, in particular, are conveniently prepared and easily seasoned to the desired flavor. This red lentil, parsley & pea shoot dish is an alternative to the cumin-spiced red lentil recipe.
Perhaps also a tad more artistic in expression, yeah?
I say cheers to another simple recipe that'll come in handy when you need a warm treat. Bon appétit!
Required equipment for this recipe:
Kitchen knife
Cutting board
Medium-size bowl
Stockpot
Sieve
Utensils to mix ingredients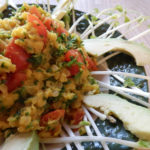 Red Lentil, Parsley & Pea Shoot Dish
Ingredients
3

cups

water

1

cup

red lentils

1½

cups

curly-leaf parsley

finely chopped

10

grape tomatoes

quartered

1

avocado

sliced

1

handful

pea shoots

2

tablespoons

olive oil

½

lemon

juiced

1

teaspoon

turmeric root powder

natural salt

to taste
Instructions
Get ingredients ready for preparation and use.

Pour the red lentils into a sieve and rinse them of any unwanted debris.

Add the rinsed lentils to a stockpot with 3 cups of water and bring to a boil. Once it starts boiling, lower the heat and allow the lentils to simmer for 6-10 minutes (keep an eye on them after the 5-minute mark as they can finish sooner than expected).

While the lentils cook, prepare the other ingredients. Pour olive oil, lemon juice, turmeric root powder and optionally any natural salt of choice into a bowl and whisk together using a fork.

On your serving plate, arrange the pea shoots. Then slice the avocado to be used for decoration.

Once the lentils are ready, drain off the water and add the lentils to the bowl containing your oil, lemon juice and turmeric mixture. Add in the chopped parsley and grape tomatoes and mix together thoroughly.

Place your serving portion on top of the pea shoots, then add the avocado slices.
Recipe Notes
As always, try as best you can to procure and use organic ingredients. Make sure to rinse and clean your produce properly before use.
Use cold-pressed, organic, non-refined and unheated oils only.
Look for olive oil in dark bottles that contain sediment at the bottom, indicating a high quality, natural, and unrefined extra virgin olive oil that was packaged while the oil was fresh.
Special ingredient(s) used: