Got some mangoes lying around in the kitchen? Or perhaps your local greengrocer, farmer's market or grocery store has just stocked up on some beautiful mangoes?
In either case, great! Because then you've gotta make this delicious mango, cucumber & cilantro salsa that yields a nice spicy kick which won't bite your tongue off unless you want it to.
While jalapeño chili peppers are usually used as the main spice element, I personally prefer cayenne pepper powder (at least 90.000 heat units).
Bon appétit!
Required equipment for this recipe:
Kitchen knife
Vegetable peeler
Cutting board
Large salad bowl
Utensils to mix ingredients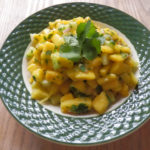 Mango, Cucumber & Cilantro Salsa
Ingredients
3

large

mangoes

peeled, de-seeded and cut into chunks

1

large

cucumber

peeled, de-seeded and chopped

1

shallot

chopped

⅓

cup

cilantro

finely chopped

2

cloves

garlic

minced

¼-½

teaspoon

cayenne pepper

2

tablespoons

lime juice

natural salt

to taste

mixed peppercorns

to taste
Instructions
Get ingredients ready for preparation and use.

Arrange prepared ingredients in separate bowls or containers until ready to combine.

In a large salad bowl, combine all ingredients, squeeze lime juice (equivalent of 2 tablespoons or more to taste) on top and mix together with utensils.

Your delightful salsa is now ready for serving!
Recipe Notes
As always, try as best you can to procure and use organic ingredients. Make sure to rinse and clean your produce properly before use.
You may optionally allow the salsa to marinate for an hour before serving, allowing the flavors to blend and enhance.
Feel free to use more cilantro. I absolutely love the flavor it adds to the salsa so, for me, the more the merrier.
I used 10 grinds of mixed peppercorns and 1 teaspoon Himalayan pink crystal salt.
Special ingredient(s) used: