No collection of veggie recipes is complete without a kale salad or dish. So here is an expression of loyalty to the great lacinato (or Tuscan or "dinosaur" or "palm tree") kale, delicately combined with quinoa and an assortment of fresh ingredients.
Of course, I'll call it the Lacinato Kale, Quinoa & Plum Tomato Dish.
Required equipment for this recipe:
Kitchen knife
Cutting board
Large salad bowl
Small or medium cooking pot
Utensils to mix ingredients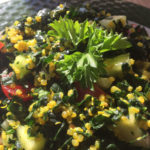 Lacinato Kale, Quinoa & Plum Tomato Dish
Ingredients
1

bunch

lacinato kale

destemmed and finely chopped

250

grams

plum tomatoes

sliced

1

cucumber

sliced and quartered

½-1

cup

parsley

finely chopped

2

shallots

chopped

½

cup

quinoa

¼

cup

lemon juice

3

tablespoons

coconut oil

natural salt

to taste
Instructions
Get ingredients ready for preparation and use.

Finely chop your kale and parsley.

Once the kale and parsley is chopped, start cooking the quinoa according to directions provided on package. While the quinoa is cooking, finish preparing all other ingredients.

In a large salad bowl, add your finely chopped lacinato kale and parsley.

Add lemon juice and coconut oil to the salad bowl and mix and massage contents with your hands.

Now add your cucumber, plum tomatoes, and shallots.

Once the quinoa has finished cooking, you may add it directly to the salad bowl or allow it to cool down first. Mix everything together with utensils.

You... are... done! Feel free to serve! Optionally place a few parsley leaves on top for garnish.
Recipe Notes
As always, try as best you can to procure and use organic ingredients. Make sure to rinse and clean your produce properly before use.
Use cold-pressed, organic, non-refined and unheated oils only. (But it's not the end of the world if you use refined coconut oil.)
To give the quinoa a golden color, pour in 1 rounded teaspoon of turmeric root powder right after adding the quinoa to the boiling water (that is if you were instructed to bring water to a boil before adding the quinoa).
Quick 101 on De-Stemming Lacinato Kale
To de-stem lacinato kale, lay each leaf with its back facing upward and use a sharp knife to cut from the top end toward the bottom end, against each side of the stem.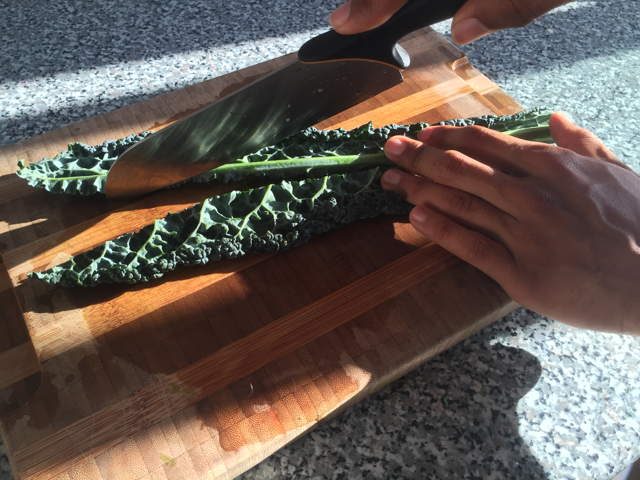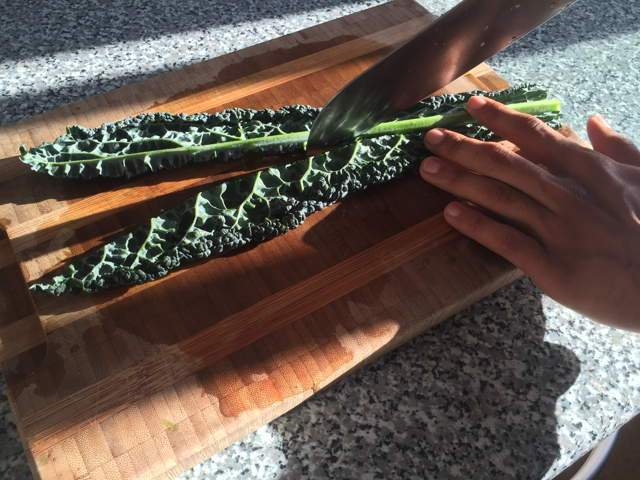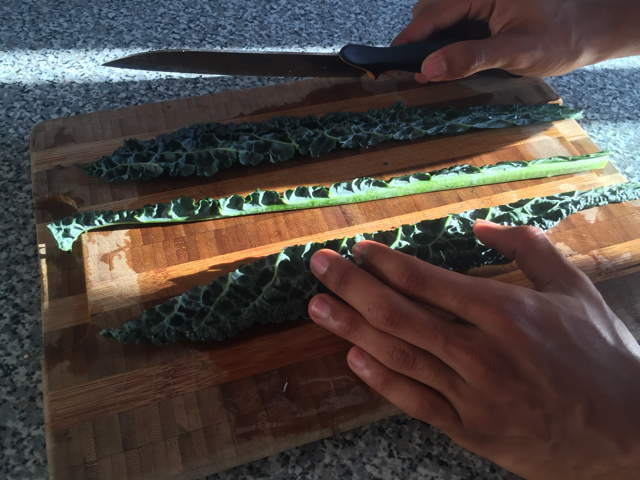 Recommended coconut oil brand: