Continuing with the kale endeavours, I've found some delicate lacinato kale. One thing we can all appreciate about this particular kale variety is that you don't have to massage the life out of it to break down its cellulose structure and make it more tender. So, should you happen to forget the massage, you have little to be concerned of.
As a result, I bring you yet another simple and very easy-to-make recipe coming your way; a lacinato kale, pine nut & corn salad, complemented well with a sweet almond oil and Dijon mustard dressing.
Required equipment for this recipe:
Kitchen knife
Cutting board
Large salad bowl
Small bowl (for dressing)
Utensils to mix ingredients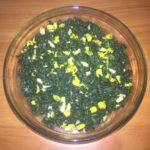 Lacinato Kale, Pine Nut & Corn Salad
Ingredients
1

bunch

lacinato kale

de-stemmed and finely chopped

50

grams

pine nuts

100

grams

corn

2

tablespoons

sweet almond oil

2

tablespoons

lemon juice

1-4

teaspoon(s)

maple syrup

1

teaspoon

Dijon mustard

1½

teaspoons

dry wild garlic

¼

teaspoon

mixed peppercorns

½

teaspoon

natural salt
Instructions
Get ingredients ready for preparation and use.

In a salad bowl, add the chopped lacinato kale.

In a small, separate bowl, mix together sweet almond oil, lemon juice, wild garlic, Dijon mustard, maple syrup, natural salt of choice, and mixed peppercorns. Whisk thoroughly using a fork.

Once the dressing is ready, pour it over the kale and toss together with utensils. Then add in the pine nuts and corn and mix together again. Optionally refrigerate for 30-60 minutes before serving.

My goodness, you've done it! Serve and enjoy your fabulous salad.
Recipe Notes
As always, try as best you can to procure and use organic ingredients. Make sure to rinse and clean your produce properly before use.
Use cold-pressed, organic, non-refined and unheated oils only.
If you want your salad more on the "sweeter side," use 3-4 teaspoons of maple syrup in the dressing.
If you cannot find wild garlic, you can use regular, finely chopped garlic. You may add it directly to the salad with the corn and pine nuts as opposed to putting it in the dressing.
Feel free to use this recipe as the base of your salad, and add anything extra that you may see fit. Plum/grape tomatoes, bell peppers, Italian sweet peppers, chives, shredded carrot, dried cranberries, and chopped dried apricots are some examples of what you could use.
Quick 101 on De-Stemming Lacinato Kale
To de-stem lacinato kale, lay each leaf with its back facing upward and use a sharp knife to cut from the top end toward the bottom end, against each side of the stem.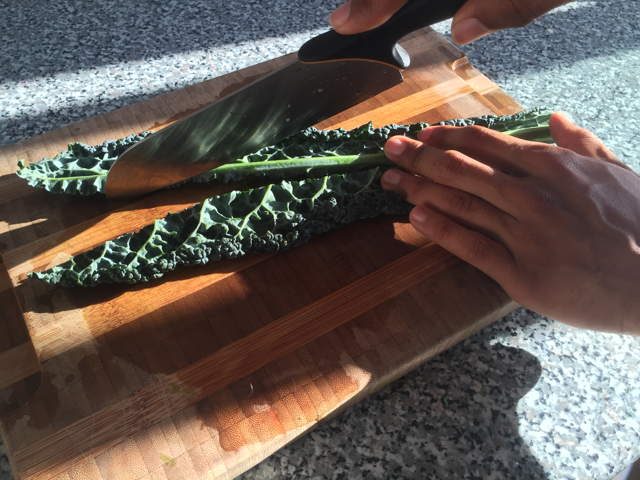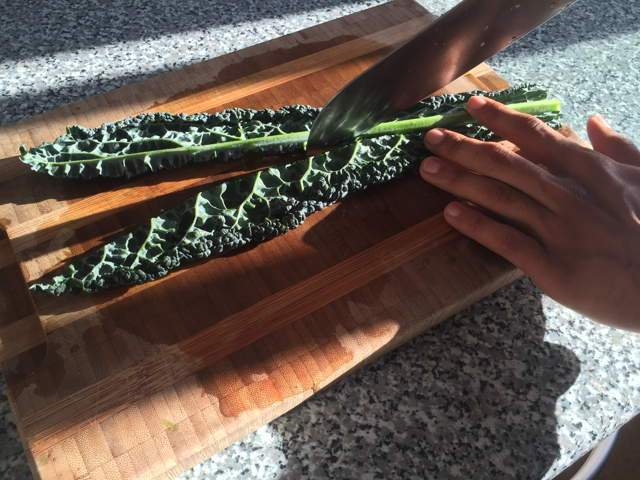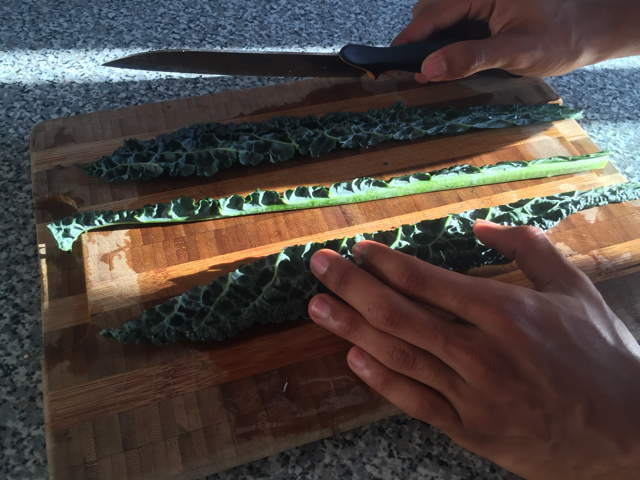 Special ingredient(s) used: