Today, I'm trying a different kale from the usual lacinato variety. For this recipe, I chose the beloved curly kale almost everyone is or should be familiar with. The result is a lovely curly kale, cranberry & pine nut salad.
This salad yields a pleasant combination of tender, soft and crunchy texture, kale's subtle signature bitterness, and a deeper sweet flavor from the cranberries. Definitely give this one a try!
NOTE: I recommend preparing (thoroughly cleaning) the kale early in advance to make sure it's completely dry for the salad. Alternatively dry the kale in a kitchen towel or use a salad spinner.
Required equipment for this recipe:
Kitchen knife
Cutting board
Large salad bowl
Utensils to mix ingredients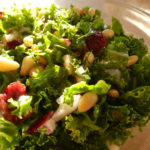 Curly Kale, Cranberry & Pine Nut Salad
Ingredients
1

bunch

curly kale

chopped

½

cup

dry cranberries

¼-⅓

cup

pine nuts

½

red onion

2

tablespoons

olive oil

1

tablespoon

lemon juice

2

tablespoons

apple cider vinegar

1

tablespoon

maple syrup
Instructions
Get ingredients ready for preparation and use.

In a salad bowl, combine olive oil, lemon juice, apple cider vinegar, and maple syrup.

Add chopped kale and massage thoroughly with your hands for a good 90-120 seconds.

Add chopped red onion, pine nuts, and cranberries. Mix contents using utensils.

Voila; easy delicacy ready for serving.
Recipe Notes
As always, try as best you can to procure and use organic ingredients. Make sure to rinse and clean your produce properly before use.
Use cold-pressed, organic, non-refined and unheated oils only.
Special ingredient(s) used: