I simply love cucumbers. They're hydrating, can easily be turned into a quick snack option when you need one and—in my experience—they're always readily available from the produce section.
For this cucumber, green bell pepper & brazil nut salad, I've decided to grate the nuts into tiny pieces and this to me is one of the best, yet seemingly neglected ways of incorporating larger nuts into salad recipes.
I hope you'll enjoy this tasty and filling treat.
Required equipment for this recipe:
Kitchen knife
Kitchen grater
Cutting board
Large salad bowl
Utensils to mix ingredients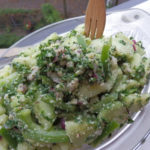 Cucumber, Green Bell Pepper & Brazil Nut Salad
Ingredients
2

large

cucumbers

cut into half slices

1

green bell pepper

cut into half strips

100

grams

brazil nuts

grated

½

medium

red onion

chopped

2

cups

curly-leaf parsley

chopped

juice of 1 lime

3

tablespoons

hempseed oil

1

teaspoon

natural salt
Instructions
Get ingredients ready for preparation and use.

In a large salad bowl, place sliced cucumber and green bell pepper and set aside.

Once you've grated the brazil nuts, set them aside until the remaining ingredients are ready.

In a bowl, mix and stir together hempseed oil, lime juice, natural salt of choice, red onion, and grated brazil nuts.

When done, pour mixture into larger salad bowl containing the cucumber and bell pepper. Thoroughly combine ingredients using your hands or utensils.

The salad is now ready for serving! Enjoy.
Recipe Notes
As always, try as best you can to procure and use organic ingredients. Make sure to rinse and clean your produce properly before use.
Use cold-pressed, organic, non-refined and unheated oils only.
Special ingredient(s) used: