Conference pears are presently in season here in Europe, so what better time to make a pear-centric recipe than now?
To complement these luscious and sweet pears, I thought I would go ahead and combine liberal quantities of Ceylon cinnamon powder and lemon juice. It turned out as expected: absolutely delicate.
When you get the chance, have a go at this simple conference pear with Ceylon cinnamon & lemon juice recipe.
Required equipment for this recipe:
Small kitchen knife
Cutting board
Serving bowl or plate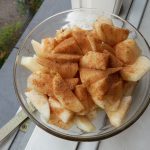 Conference Pear with Ceylon Cinnamon & Lemon Juice
Ingredients
6

conference pears

ceylon cinnamon

as desired

lemon juice

as desired
Instructions
Get ingredients ready for preparation and use.

Peel the conference pears.

Cut the pears into smaller pieces, drizzle with as much lemon juice and ceylon cinnamon as you care for, and serve!
Recipe Notes
As always, try as best you can to procure and use organic ingredients. Make sure to rinse and clean your produce properly before use.
Special ingredient(s) used: