Here's another simple and quick carrot, parsley & pine nut salad recipe for the carrot lovers out there. The hempseed oil and lemon juice add a nicely flavorful touch to this crunchy recipe. Enjoy!
Required equipment for this recipe:
Kitchen knife
Cutting board
Large salad bowl
Utensils to mix ingredients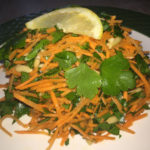 Carrot, Parsley & Pine Nut Salad
Ingredients
350

grams

carrots

shredded

1 1/2

cups

parsley leaves

chopped

1/4

cup

pine nuts

2

cloves

garlic

minced

3

tablespoons

hempseed oil

1

teaspoon

natural salt

lemon juice

(half of a lemon)
Instructions
Get ingredients ready for preparation and use.

Add shredded carrot and chopped parsley to bowl.

Add lemon juice, hempseed oil, minced garlic, and himalayan crystal salt to bowl.

Use hands to massage and mix bowl contents for 30 seconds.

Add pine nuts to bowl and mix with utensils.

Optionally allow contents to marinate for 15-20 minutes, garnish with a half slice of lemon and parsley leaves, and serve.
Recipe Notes
As always, try as best you can to procure and use organic ingredients. Make sure to rinse and clean your produce properly before use.
Use cold-pressed, organic, non-refined and unheated oils only.
Feel free to add additional lemon juice to taste.
Special ingredient(s) used: