A couple years ago I offered support to someone actively working toward improving their health and wellbeing.
In doing so, I was inspired to put together a basic salad recipe for that person. Since they potentially stood to benefit from the wonderful properties of beetroots as well as other ingredients that comprise this recipe.
NOTE: If you grate the beetroots in advance of making the salad, this recipe should take roughly 5 minutes or less.
Enjoy!
Required equipment for this recipe:
Kitchen knife
Cutting board
Medium or large bowl
Grater
Utensils to mix ingredients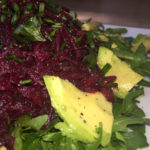 Beetroot, Arugula & Cilantro Salad
Ingredients
2.2

lbs

beetroots

peeled and grated

100

grams

arugula

1

avocado

sliced

½

cup

chives

chopped

½

cup

cilantro

2-3

tablespoons

olive oil

extra virgin

3

tablespoons

lemon juice

natural salt

to taste
Instructions
Get ingredients ready for preparation and use.

On each serving plate, lay a bed of arugula. In a bowl, mix together grated beetroots, chives, cilantro, lemon juice, and olive oil.

Place your desired portion of the beetroot salad on top of the arugula and arrange slices of avocado.

Having fun? Well, I hate to break it to you, but you're done! You may serve your culinary creation.
Recipe Notes
In case you don't have an avocado, fret not! This salad is still very delicious without it.
As always, try as best you can to procure and use organic ingredients. Make sure to rinse and clean your produce properly before use.
Use cold-pressed, organic, non-refined and unheated oils only.
Look for olive oil in dark bottles that contain sediment at the bottom, indicating a high quality, natural, and unrefined extra virgin olive oil that was packaged while the oil was fresh.
Special ingredient(s) used: