The GrapeGate kitchen has produced yet another marvel. This time, I'm featuring the special guest, "Chia Seed," in this delightful banana, baby spinach & chia seed smoothie; slightly chilled with the addition of frozen mango. This smoothie comes in a special "GREEN" edition, has a delicate consistency, and tastes great!
Chia seeds are highly reputed for their rich content of omega 3 fatty acids and soluble fiber, as well as antioxidant properties. When they're put in contact with liquid, they undergo a mucilaginous transformation, forming a gel-like substance that can thicken culinary preparations like smoothies, soups, punches, yogurts, and the like. The longer you allow the seeds to soak, the thicker they can make your meal—until the limit is reached of course.
Hope you enjoy this green smoothie!
Required equipment for this recipe: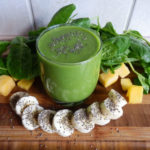 Banana, Baby Spinach & Chia Seed Smoothie
Ingredients
5

small

bananas

peeled

2

cups

baby spinach

1

cup

frozen mango

3

teaspoons

chia seeds

1½

cups

coconut water
Instructions
Get ingredients ready for preparation and use.

Add ingredients to your blender in the following order: bananas, baby spinach, frozen mango, chia seeds, and coconut water.

Blend until contents have liquefied and desired consistency has been reached.

Your smoothie is now ready for serving! Optionally sprinkle some chia seeds on top. Enjoy.
Recipe Notes
As always, try as best you can to procure and use organic ingredients. Make sure to rinse and clean your produce properly before use.
If you're new to chia seeds, and have a fairly sensitive digestive system, start out slowly with 1-2 teaspoon(s) and pay attention to how your body responds (if at all).
Remember, Banana 7s Only!