Yet again, in the name of simplicity, here's another quick and satiating recipe in the form of this baby spinach, avocado & pumpkin seed salad.
Required equipment for this recipe:
Kitchen knife
Cutting board
Small bowl
Large salad bowl
Utensils to mix ingredients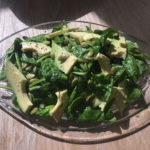 Baby Spinach, Avocado & Pumpkin Seed Salad
Ingredients
250

grams

baby spinach

2

avocados

sliced

1/3

cup

pumpkin seeds

2

tablespoons

olive oil

extra virgin

1/2

teaspoon

himalayan crystal salt

lime juice

(one or two limes)
Instructions
Get ingredients ready for preparation and use.

In a separate small bowl, add the olive oil, lime juice, pumpkin seeds and himalayan crystal salt. Mix contents.

Pour marinated pumpkin seeds onto spinach. Mix contents.

Add sliced avocado on top, optionally pour on a few grinds of mixed peppercorns, and serve.
Recipe Notes
As always, try as best you can to procure and use organic ingredients. Make sure to rinse and clean your produce properly before use.
Use cold-pressed, organic, non-refined and unheated oils only.
Look for olive oil in dark bottles that contain sediment at the bottom, indicating a high quality, natural, and unrefined extra virgin olive oil that was packaged while the oil was fresh.
Special ingredient(s) used: