This arugula & peppercorn medley salad combination yields a delightful flavor, enhanced by the liberal and key addition of mixed peppercorns.
And to make it clear: the mixed peppercorns are the key ingredient to this recipe, so don't hesitate to use a lot more than you're otherwise accustom to.
Required equipment for this recipe:
Kitchen knife
Cutting board
Large salad bowl
Utensils to mix ingredients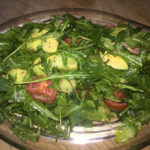 Arugula & Peppercorn Medley Salad
Ingredients
200

grams

arugula

200

grams

cherry tomatoes

sliced

1

cucumber

quartered and sliced

1

avocado

cubed

2-4

tablespoons

avocado -or- coconut oil

30-50

grinds

mixed peppercorns

natural salt

(optional)
Instructions
Get ingredients ready for preparation and use.

Add arugula, quartered cucumber, sliced tomatoes and cubed avocado to bowl.

Add choice of oil (avocado oil or coconut oil).

Grind peppercorns (at least 30-50 grinds) into salad.

Mix ingredients and optionally allow to marinate for 15-20 minutes before serving.
Recipe Notes
As always, try as best you can to procure and use organic ingredients. Make sure to rinse and clean your produce properly before use.
Use cold-pressed, organic, non-refined and unheated oils only.
The ground peppercorns are the "magic" to this recipe, so use liberally.