I present to you the crunchy and simple arugula, avocado & walnut salad of the day!
I was never thrilled with the strong flavor of mustard and it has been years since I've last had some. But today, I decided to experiment and see if it made any difference for me to include some Dijon mustard in a salad.
The result? Well, I can now understand why Dijon mustard has become such a popular ingredient in salad dressings. It adds quite a pleasant touch to this recipe. Enjoy!
Required equipment for this recipe:
Kitchen knife
Cutting board
Medium or large salad bowl
Small bowl (for preparing dressing)
Utensils to mix ingredients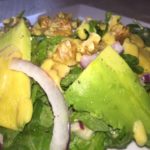 Arugula, Avocado & Walnut Salad
Ingredients
100

grams

arugula

½-1

avocado

sliced

½

red onion

sliced

⅓

cup

walnuts

crumbled

5

tablespoons

olive oil

extra virgin

1

tablespoons

Dijon mustard

4

tablespoons

lemon juice

natural salt

to taste

mixed peppercorns

to taste
Instructions
Get ingredients ready for preparation and use.

In a small bowl, mix together olive oil, lemon juice and Dijon mustard using a fork or small spoon, and set the dressing aside.

Place the arugula in a salad bowl and pour in the sliced red onion and half of the crumbled walnuts.

Pour in some of the dressing and mix contents with your hands or utensils.

Place all or some of the salad on a serving place and sprinkle on remaining crumbled walnuts, pour on the rest of your dressing, and cover the salad with avocado slices.

Was that easy or what? Serve your culinary creation!
Recipe Notes
As always, try as best you can to procure and use organic ingredients. Make sure to rinse and clean your produce properly before use.
Use cold-pressed, organic, non-refined and unheated oils only.
Look for olive oil in dark bottles that contain sediment at the bottom, indicating a high quality, natural, and unrefined extra virgin olive oil that was packaged while the oil was fresh.
Special ingredient(s) used: