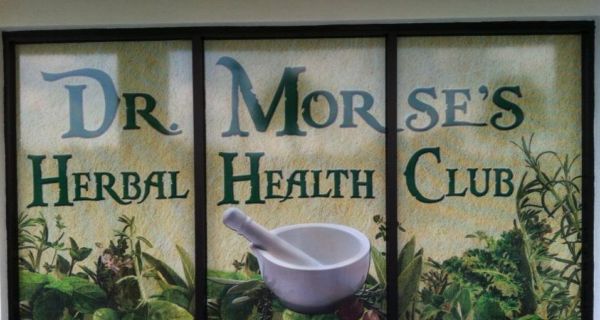 Dear Ones,
Many of you have heard me on YouTube recently talking about turning our clinic into a private membership Health Club. Well the time has come, and effective May 2014, Dr. Morse's Herbal Health Club will become a private membership health association. I'd like to take a moment to discuss this change, and what it means for everyone!
In fact, only 17 states in the entire country DO license Naturopathic Doctors (even though they must complete more in terms of educational requirements than MDs do!).
What this means is that the American Medical Association has persuaded states to try and outlaw other heath modalities—especially naturopathy-because of its success. The States essentially hold a gag order on Naturopathic Doctors and other practitioners residing in unlicensed states who seek to help others restore health and vitality.
Likewise, agencies such as the FDA (under the guise of protecting the general public) have the ability to seriously restrict language used on legitimate products, arrest practitioners, conduct raids, and confiscate products and devices. Natural products are often the target of such scrutiny and attack.
I have always sought to speak the truth, and to bring that truth to those who are ready to hear it. Over the years this has become a delicate balance, to bring the light and the truth while remaining out of the crosshairs of those with a vested interest in keeping the public in a chronic state of disease and suffering.
The creation of a private membership health association changes the game, and allows us greater freedom in our mission to help restore health, vitality and harmony to this planet. It also offers our members the freedom to exercise their right to pursuing health and wellness!
Some of the benefits of a private membership health association are:
Protection of the Freedom of Association as guaranteed by the 1st and 14th Amendments of the US Constitution.
Private membership activities are restricted to the private domain, which means they are not able to be controlled (or threatened!) by the State or Federal Governments—or the AMA (they have very limited jurisdiction).
The Supreme Court has already ruled in favor of private sector clubs.
Any advice or recommendations made are done in a member to member capacity, as opposed to healthcare provider to patient or practitioner and/or counselor to clients.
Members are free to choose their preferred method of achieving health, and no board or agency (such as the AMA, FDA, Federal or State governments) can threaten or punish you for exercising your right to choose health!
And many more great benefits!
So now that you know the benefits, what does this mean for everyone? It means that in order to receive health advice or counseling from Dr. Morse's Herbal Health Club, you will have to become a member. This will entitle you to all the benefits of protection that membership includes plus newsletters, discounts, and Charters around the world (without franchises).
And now the question you all must be asking: how do I become a member? SIMPLE! Just contact the health club and complete a membership application (detailed instructions will be provided when the changes have officially taken place). Submit the membership application and a $10 membership fee, and we will take care of the rest.
Your $10 membership fee entitles you to:
$10 off [a refund of the $10 membership fee] your first herb order (retail orders only; wholesalers and local distributors are not eligible for discount).
Limited phone/email support from our certified detoxification specialists.
Access to counseling appointments with myself or Marcie Troyer.
Access to a comprehensive line of herbal products to help you on your journey to Wellville.
Access to other resources and educational materials to help set you up for success as you begin your health quest.
Our YouTube videos will remain accessible and free to all, because I believe they are such a vital educational tool. Please understand that our intention is not to block out or exclude anyone from access to our Clinic, but rather to bring everyone choosing to take their health into the own hands under an umbrella of protection.
A membership fee is required to create a legally binding contract between members; but in an effort to offset this we have decided to offer a discount on your first order (retail orders only).
We look forward to sharing this exciting adventure with all of you!
Always Be Love,
Robert Morse, N.D., D. Sc., M.H. and all the Health Club Staff
Visit Dr. Morse's Herbal Health Club Website
A Special Memo to our Wholesale and Local Distributor Accounts
It has been such a pleasure working with each and every one of you! We greatly appreciate all of your hard work and dedication in your efforts to help spread the word of detoxification and tissue regeneration. We love hearing all of your great success stories, and we are honored to be a part of this exciting journey in restoring vibrant health worldwide with all of you!
Our goal is to continue to help in any way we can! We are very excited about the upcoming changes with our new Private Health Club. As we learn and work through the changes, we are confident that the benefits our club has to offer are endless!
However, with our new membership guidelines, we do have to work together and understand that our reasons for this club are not only to protect ourselves, but also to protect those who work with us.
Through the years, we know change is an unavoidable process, especially with a fast-growing demand for relief and remedy that our formulas provide for so many. With the privacy and protection our club has to offer we wish to continue to provide the education, practitioner support, and let's not forget our herbal formulas, for everyone to benefit from so the world can continue to heal and regenerate!
Once our club is in effect, this means that anyone to whom we ship (or even drop-ship) must become a member of our club. We are working out a way to allow all of our professional accounts the opportunity to become local chapters of our club, which would not only protect us, but also you and all the clients you wish to work with under our Private Membership Agreement.
Until we work out all the details, we ask that you continue to support our cause and work with us through our transition period. For the time being, any orders that ship out of our office will be for members only, including all drop-shipments. We appreciate all of your help and support as we work through this transitional period. We look forward to endless opportunities with this exciting new venture!
Message from Shannon Brese (Clinic Staff Member)
In order to utilize any of our services; ordering products, general inquiries (by phone or email), herbal protocols, iris reports, making a counseling appointment, etc., you will have to become a member. There can be no exceptions to this. If you are a Local Distributor or Wholesaler, any clients that we are drop shipping to for you MUST be members.
Youtube Videos Will Continue To Be Free Of Charge And Available To Non-members
There is a one-time membership fee of $10. There has to be a monetary exchange in order to make a legal, binding contract. However, when you place your first order online you will automatically receive a $10 credit (this will appear in your cart automatically—there will be no code to remember).
To become a member (on the new website on or after 6/2/14):
1.) Visit the main page of the website: http://www.drmorsesherbalhealthclub.com
2.) Click the Subscribe button at the top of the page.
3.) Choosing your subscription:
Retail: Clients of Dr. Morse, Marcie Troyer, or those who have placed orders in the past choose Retail subscriptions.
Wholesale: You must have an existing wholesale account to choose this option. If your application is still under review, please select Retail and your subscription will be changed automatically once your application is approved.
Local Distributor:
You must be a graduate of Dr. Morse's International School of Detoxification to choose this option. If you have not yet submitted your exam, or it has been submitted but not graded, choose Retail and your subscription will be updated automatically upon completion of the course.
4.) Fill in the requested information to create a User ID and password. Do not give this information to anyone! If you are caught allowing non-members to use your login information, your membership will be revoked.
5.) Submit your payment through PayPal (Note, you can use PayPal as a guest if you do not have a PayPal account).
Retail subscriptions will be approved immediately. Wholesale and Local Distributor applications will require verification, please allow up to one business day. You will receive an email notification once approved.
Once your subscription is approved you will be able to login and access the rest of the website, as well as place orders or make inquiries by phone and email.
To our friends living outside the US, you must still become a member to utilize our services even though you do not live in the US (there are many reasons for this, and it does still benefit you as well as us). You will be able to place international orders online as a member. For those local to the Port Charlotte area, orders can be placed on line and picked up at our office.
We look forward to being able to have greater freedom in the services we offer, and look forward to continuing to work with everyone on their journeys to Wellville! The next couple weeks will likely be bumpy as we implement the new club and website, and we appreciate your patience and understanding as we make this transition.